The Museum has a new, temporary addition to it's grounds - a bronze sculpture titled Tango, by Missouri artist Larry Young. The work is on loan as part of our upcoming exhibition, Maquette: The Sculptor's Tool opening on August 29. Highlighting the use of maquettes, or models, as a tool for creating large scale sculpture, the exhibit also includes work by Ernest Trova, Richard Hunt, and James Sterritt.
But installing a large scale outdoor bronze weighing over 300 pounds is tricky - we were fortunate to have the artist's assistance as well as the help of multiple staff members - Exhibit Manager Cindy Quayle, Museum Assistant Brian Fickett, Security Officer Joe Medina and Custodian Michele Huntley.
We hope you will enjoy this temporary addition to the Museum's grounds, and please join us for the opening reception on August 29 from 5:30 to 7:00 p.m. The work will be up through November 9th.
Sarah Buhr
Curator of Art
Artist Larry Young with his sculpture, Tango. And yes, he's allowed to touch the artwork - he made it!! But for the rest of us, please don't touch!
This week I welcomed the newest member of our curatorial team - a Dorfman conservation form! I've been using the form to mount and photograph some of the clothing in the museum's collection all week. There are a lot of great things about this form, but my favorite part is that I can easily change its shape to support whatever dress I'm photographing, from a 1700s Robe a l'anglaise, to a light, breezy dress from the 1910s. It is strong enough to hold the weight of my support materials, but light enough to be easily transportable. Plus, it is made with no resins, glues or other hazardous chemicals that could damage the old textiles!
For more information about historic clothing check out these two books, I use them to assure I'm creating the right silhouette for each dress: Dressed for the Photographer by Joan Severa & Costume in Detail by Nancy Bradfield
Greta Russell, Registrar
Last week I attended the Association of Midwest Museum's conference in St. Louis. I spent Monday with the Midwest Registrars Committee's Mighty Rescue Crew building mounts for a collection of hats at the Griot Museum of Black History.  Eight of us Registrars/Collection Specialists worked together first building ethafoam blocks in the shape of the hat, which we padded out with batting and covered with muslin. Next we glued the mount on a piece of acid free blue board and made a mock-up of a bankers box that will be used to store the hats. We completed mounts for seventeen hats. Check out the pictures below!
Instructions for creating storage mounts like these can be found in the book: Storage of Natural History Collections: Ideas and Practical Solutions
Greta Russell, Registrar
tamarackgallerywv said: Thank you for the follow! I especially like your "Real or Fake? Tips and FAQ" and have recommended it to many gallery visitors who have questions about artwork they have at home. Lovely blog!
Thank you for the nice words! Our curatorial team sure is proud of this little blog.
Mrs. King announced that Mrs. Wilhoit, Miss Weisel, and Miss Trimble would present a bill before the State Legislature asking for permission to levy a city tax to build and support a museum in the new Civic Center proposed by the Bartholomew Plan.

-Minutes from the meeting of the Board of Directors of the Springfield Art Museum, November 22, 1934
[Image of Civic Center proposal courtesy of History Museum on the Square]
The Springfield Art Museum is one of Springfield's oldest institutions, and it went through many phases of financial and physical development before construction on our current facility began in the 1950s. The first 25 years of the Museum's life were marked by many highs and lows: while it succeeded in fostering an appreciation of the arts and education in Southwest Missouri, it had to run its exhibitions and programming on a shoestring budget for many years. In 1946, the Springfield Art Museum was officially deeded to the City of Springfield after City Council approved a special tax that would, among other things, provide consistent financial support for a city museum.
By this time, the Springfield Art Museum was almost two decades old and had been operated tirelessly by its self-appointed Board of Directors, including its initial founder, Deborah D. Weisel. Though Weisel's title was only General Secretary, she effectively acted as curator, head educator, development officer, and publicist. Since the incorporation of the Museum in 1928, the Museum supported itself through donations and membership dues, keeping the cost of entry and activities as low as possible for the people of Springfield.
As the Great Depression began to wane, Weisel strove to enact legislation that would help stabilize the Museum's operating budget, allowing the board to hire an executive director and full-time staff. To do this, she solicited the advocacy of two local state senators, Edward A. Barbour, Jr. and Allen McReynolds. Both were democrats (rare for the region) and lawyers, and they often collaborated with each other on legislation. Both Barbour and McReynolds have long a history of supporting the arts throughout Missouri. For example:
Allen McReynolds (1877-1960) represented the 28th district as a Missouri state senator from 1935-42. He was from Carthage, and grew up studying law under his father. Primarily a lawyer and a historian, McReynolds was heavily involved in the arts and culture of Missouri, even serving as vice president of the Missouri Historical Society from 1925-36 and president from 1937-41. He acquired a portrait of Thomas Jefferson by itinerant Missouri painter George Caleb Bingham for the Historical Society. Regarded as worthless after being badly damaged in the 1911 fire at the Jefferson City capitol building, the painting was rescued by Senator Michael E. Casey of Kansas City, who had it cleaned and repaired. When Casey died in 1949, McReynolds acquired it and had it further repaired and authenticated at the Nelson Gallery (now Nelson-Atkins Museum). The Bingham painting, a reverent copy of Gilbert Stuart's portrait of Jefferson, survived in good condition and is now in the collection of the Missouri State Historical Society thanks to McReynolds.


Edward A. Barbour, Jr.

(1896-1970) represented the 20th district as a Missouri state senator from 1935 to 1942, having been elected and reelected at the same time as McReynolds. Like McReynolds, Barbour studied law after his father and worked as a prosecutor for the majority of his career. Barbour happened to meet another famous Missouri artist, Thomas Hart Benton, in 1935. Benton came from a long line of Neosho politicians, and his brother Nat, a lawyer, introduced him to Barbour. This meeting was fortuitous, as Barbour had been recently interested in commissioning a mural depicting Missouri history. Benton agreed to the project if funding could be secured. Barbour presented his Senate Concurrent Resolution 6 on March 5, 1935, which proposed to honor Benton by having him paint an elaborate mural inside the capitol building in Jefferson City. The resolution passed, and Benton began painting "A Social History of the State of Missouri," a theme which he was encouraged to interpret freely. The finished product became very controversial among some representatives and citizens, who complained the murals "weren't pretty enough" or portrayed the "wrong aspects" of Missouri's history. Benton responded to this criticism by stating that the mural was "not beautiful but truthful, and that by being truthful they were beautiful."
Interestingly, Deborah Weisel approached McReynolds and Barbour just a couple of weeks after they were first elected to office in November of 1934. Barbour himself lived on East Walnut Street in Springfield, and it is possible that Weisel was acquainted with the two men before or during their campaign. She knew, in any case, that they would be amenable to aiding small regional museums and wasted no time in seeking out their advocacy for her cause. The bill allowing cities to levy a small tax for museums was presented to the Missouri Senate for the first time in February of 1935, and SAM board meeting minutes indicate that Weisel went to Jefferson City for the occasion. 
The Springfield Art Museum wasn't able to take advantage of the new tax levy for another ten years, but the City of Springfield adopted it just in time for the Museum to finally hire an Executive Director in 1947. Of course, anyone who has driven up Boonville knows that the Civic Center plan of which Weisel was a proponent never came to pass, but the Springfield Art Museum nevertheless found a lovely permanent home in Phelps Grove in 1958. The largest gallery was named after Deborah Weisel to commemorate her epic commitment to the museum.
After Winslow Ames was brought on as SAM's first executive director, Weisel was finally able to tender her resignation from the Board of Directors after twenty years of service. She must have been extremely satisfied that her primary mission—ensuring that the Springfield Art Museum would continue to be provided for after her departure—came to pass. She died just a few years later, in 1950.
Springfield owes its rich arts culture to Weisel's hard work, and it is very possible that the Springfield Art Museum would not have been able to develop as much as it has over the decades if not for Weisel's keen political savvy. By the same token, we owe just as much to the state and city officials who routinely took pains to support the arts in Missouri throughout their careers. 
To learn more about Deborah Weisel's life and work in Springfield, check out this interactive timeline made in conjunction with our exhibition, Art Crusader: The Enduring Legacy of Deborah D. Weisel.
-Kiri Mack-Hansen, Research Assistant
Anonymous said: Who is the head director or curator?
Our Executive Director is Nick Nelson, and our Curator of Art is Sarah Buhr.
I was recently asked to research calling card trays for an item that was found in our permanent collection. Not only did I completely fall down a rabbit hole of Victorian material culture and starchy social customs, but I also stumbled upon a small but dedicated movement to revive some of these seemingly outmoded traditions. It appears the calling card ritual is coming back into vogue, but in a new and modern incarnation. Contemporary gentlemen see it as a business card with a more individualized touch. But what does the contemporary gentlewoman think? I asked fellow curatorial assistant Rachel Johnson to help me unpack the resurgence of the 19th century calling card in what we hope will become a regular feature on this blog: RepARTee, a conversation about art. 
-Kiri Mack-Hansen, Research Assistant
Click here for a background on the history of calling cards.
Click here to read the blog post on the website "The Art of Manliness" that inspired the topic of our conversation.
Kiri:
Aside from the frankly awful picture at the top of the AoM article that goes uncriticized, I thought it was counterintuitive that the author described the Victorian calling card system as a way of "streamlining introductions." Even scholars of Victorian social customs have called this ritual a waste of time—though that was an intentional aspect of it. Part of the calling card's use was as a signifier of leisure. A woman of standing would have ample time to personally distribute calling cards around town all afternoon. But if anything, this practice was meant to complicate introductions and social interactions, not streamline them. If you were lucky, you got a 10-minute meeting with the card's recipient in their parlor, but usually your card was placed on a fancy tray in the foyer by the recipient's servant. Our generation's love of social media and smartphones gets a lot of flack, but at least we're usually interacting directly with actual people and often having substantive dialogues. Or is the Facebook "Like" this era's "downturned upper left corner"?
Rachel:
I can see how the whole ritual of the calling cards would complicate something as simple as a social call, but part of me also sees it as a pre-commonplace-telephone-society's answer to how to politely make your intentions known. Before you could leave a voicemail or send a text to see if someone was busy at the moment, but wanted the person to know that you desired to speak with them, I can see the exchange of physical cards including contact information  as a reasonable solution. However, it seems people in general always find a way to make things a competition and exclusionary; case in point, if you can't afford a calling card of quality production, you're probably not getting that response, and as you mentioned, only someone who could afford leisure time would really be able to distribute their cards anyway, making it mostly exclusive to people with certain statures in society. So there's a necessary need, and the unnecessary complications.

As far as a modern resurgence, I can appreciate trying to keep a form of material culture alive or rejuvenated, however, this system is really outdated due to the fact that our society now is so interconnected. The article you're referring to does give uses for calling cards in modern society, but distributing these cards is only going to lead to a phone call, text, or email, so I would say the heart of the culture of exchanging cards and their subtleties is lost.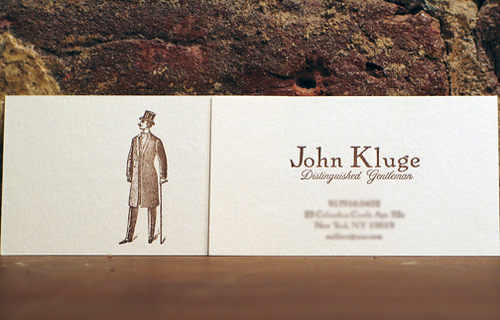 Kiri:
I agree—it seems like the intention among those who want to revive calling cards are introducing them into a situation where you're already directly interacting with someone, face to face. I have to say that if someone handed me a "social" card (as opposed to a business card), I'd probably be a little put off! Maybe it's the strong emphasis on developing one's "personal brand," which I guess I find distasteful for the sheer artifice of it. The AoM article frames the modern calling card as a "non-threatening" way of picking up women, but as a woman, wouldn't you think: "This guy has a whole stack of cards he hands out to every girl he meets!" I wonder how this mythical contemporary gentleman would respond to receiving such a card from a lady…too forward?

I did like the testimonial of the mom who uses them to connect with other parents she meets, since her family moves around a lot and constantly has to rebuild their community network. The contemporary calling card as a contact organizer – I can get behind that. From what I've read, that seems to be one of the purposes it served back in the 19th century as well, for keeping invitation lists in order and such. But upholding the notion that carrying these cards makes you more "civilized" than those who prefer their business cards or even the good ol' cocktail napkin? That elitist mindset should stay in the 1800's where it belongs.
Rachel:
With the contemporary popularity of "nostalgic" things, penny farthings, barber shops, even fashion trends, I can see people wanting to reappropriate this aspect of what they see as a cultured life, but I totally agree that it often misses the mark and comes across as pretentious. It feels like we're imagining the "good old days," when we're really imitating aspects of a society that was more rigid, elitist and oppressive than the one we live in today.
Feel free to leave your own comments. What do you think about the modern "calling card"?
Anonymous said: Dear Curatorial Staff, I have a James Van Ness coverlet like the one in your collection names, "Cornelia's Coverlet," but made for Edmund Lawrence in 1850. Can you please tell me an auction estimate or insurance value for this piece?
We're glad you asked this because we get questions like yours a lot. In general, it is considered a conflict of interest for professional museums to dispense appraisals or authentications, so, unfortunately, the Springfield Art Museum (or any other museum) cannot help you with this. 
The best course of action is to seek out a licensed appraiser. The American Society of Appraisers and the Appraisers Association of America have excellent search engines to help you locate the right appraiser by geographical location and area of expertise. For a less formal approach or a quick, rough estimate, you might want to check out AskART, ebay, or artprice.com. Keep in mind that there are many factors that can influence the value of an artwork, including market trends, when in an artist's career it was made, its size, and especially its condition. To clean your artwork, find a professional conservator at the American Institute of Conservation. Never attempt to clean a work of art yourself.
For those looking to establish a value for their two-dimensional artworks (drawings, paintings, prints, etc.), check out our simple pro-tips to make sure you have an original piece of art in the first place.
Best of luck in evaluating your coverlet, and thanks for the question!